BONGÓ (bone-GO) Essential Elements and Components Defined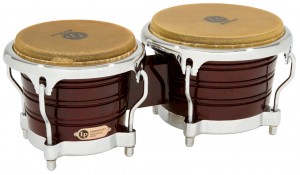 BONGÓ (bone-GO)
A small double drum that is held resting on the calves of the seated musician. The heads are tuned a fourth apart. It is
widely used in Afro-Caribbean music of many sorts, especially quartets and sextets playing sones. Now considered one of
the Latin percussion instruments of the rhythm section, it was originally more widespread than either the conga or the
timbales until Arsenio Rodriguez changed the line up in the '40s creating the son montuno. In salsa, as in the earlier
string- based groups, the bongó playing tended to be more ad-libbed than the other drums however it is used to
accompany the singer inspiring him or her to improvisation the reason they are called "soneros" or "soneras." It served to provide a complex counterpoint to the main rhythmic pulse of a number. The basic toque (pattern) for the bongó, called  the martillo (hammer), can be rendered onomatopoeically as dicky-docky-dicky-ducky, sort of a tick tock simulation of a  grandfather clock.
By Pete Nater