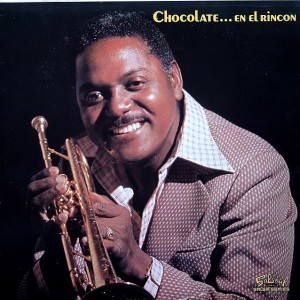 Alfredo "Chocolate" Armenteros (born April 4, 1928) is an Afro-Cuban trumpeter born in Santa Clara, Las Villas Province in Cuba.
Alfredo Armenteros first began playing in a band led by the sonero/composer René Álvarez called Conjunto Los Astros and soon after with Arsenio Rodríguez. The nickname "Chocolate" was bestowed on him owing to a case of mistaken identity, when someone took him for Kid Chocolate, the champion boxer. He has played with some of the greatest names in Afro-Cuban music, both Cuban and non-Cuban, including José Fajardo, César Concepción, Charlie Palmieri, Machito and a host of others.
The trumpet of the master, Alfredo "Chocolate" Armenteros, has shared the stage with hundreds, if not thousands, of excellent musicians. His musical portfolio is vast and is a definitive catalog of Afro-Antillean music. He has played with Arsenio Rodríguez, his cousin Beny Moré, Tito Puente, Wynton Marsalis, Eddie Palmieri, Marcelino Guerra, Charlie Palmieri, John Santos, Israel "Cachao" López, Noro Morales, Johnny Pacheco, and hundreds more. Additionally, Chocolate was a member of the iconic Cuban/Afro-Cuban dance band par excellence Conjunto Sonora Matancera from 1977 to 1980.
He has always been sought after as a musician because he is considered to be one of the best improvisers in Latin music. Although Father Time has taken some power out of his horn, Chocolate's incredible musical expertise remains and he has selflessly shared his talent in every corner of the world to all who care to listen. He has been playing music since the late 1930s and is still active. Having been a member of Arsenio Rodríguez's seminal conjunto in Cuba and subsequently having played with so many different musicians over the years, Chocolate is one of the last living musical bridges. Respected in the Jazz world as well, Choco has quietly become one of the greats in the business, his place assured and cemented by his love for music and by his natural talent and subtle, yet elegant, simplicity on the trumpet. To this day he remains a man of grounded roots keeping close to his base. When not traveling the world, Chocolate can almost always be found in El Barrio, New York City, sharing a cigar or a beer with the locals.
Video Links:
Record  Credits:
Latin jazz ( Recording )
1 edition published in 2007 and held by 237 libraries worldwide
Jazz descargas by Conga Kings (Musical group) ( Recording )
2 editions published between 2001 and 2004 and held by 20 libraries worldwide
Knockdown calypsos by Growling Tiger ( Recording )
3 editions published in 1979 in English and Undetermined and held by 12 libraries worldwide
Montuneando 1946-50 by Arsenio Rodríguez ( Recording )
1 edition published in 1993 in Spanish and held by 10 libraries worldwide
Congo to Cuba ( Recording )
1 edition published in 2002 in Multiple languages and held by 6 libraries worldwide
Superimpositionby Eddie Palmieri ( Recording )
1 edition published in 2006 in Spanish and held by 4 libraries worldwide
Prefiero el son by Alfredo Armenteros ( Recording )
3 editions published between 1979 and 1980 in Spanish and held by 3 libraries worldwide
Chocolate en sexteto by Chocolate Armenteros ( Recording )
2 editions published between 1983 and 2001 and held by 3 libraries worldwide
En el Rincon by Chocolate Armenteros ( Recording )
1 edition published in 2000 in Spanish and held by 3 libraries worldwide
The nuyorican salsa experience ( Recording )
2 editions published in 1999 in Spanish and held by 2 libraries worldwide
Source:  https://en.wikipedia.org/wiki/Alfredo_%22Chocolate%22_Armenteros