Charlie Rosario, a great artist who designed some of the great album covers for salsa back in the day (think Eddie Palmieri's "The Sun Of Latin Music" for instance). Charlie is alive and well, working on fabulous paintings, sculptures, and collage art. He's still designing, and also is well versed in photography.
His specialty – as far as the subject matter for his art – is the roots of the Latino experience – African rumba drumming, Aztec and Mayan imagery, and Taino themes. He knows his colonial and Pre-Columbian (B.B., as in Before Columbus) history as well, so his paintings and sculptures are very accurate and evocative of exotic times in the past. Charlie is also engaged in modern art making as well, working with an ongoing experimental, abstract vision that uses color and geometric shapes to evoke the energy and spice of Latin music.
Charlie thinks outside the box – just check him out in my book, "Cocinando"! If you are a Chicano rock artist, check out the Aztec and Mayan 'sculpture graphics' on this page. If you are a salsero, you can commission any scene you like, from portraits to island vignettes, from musicians playing to El Barrio, from psychedelic and surreal to folkloric – he has many styles. If you are in jazz or Latin jazz, Charlie has the image for you and, if you are in any 'típico' or folkloric music – Santería, rumba, jibaro – Charlie knows all about those subjects and will blow your mind with his creativity.
Videos:
https://www.youtube.com/watch?v=xnU-4R5MteU
Some of his famous art work: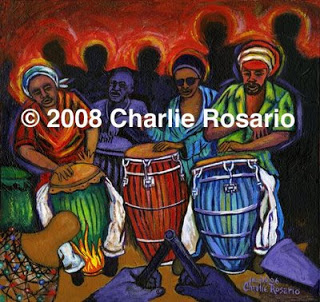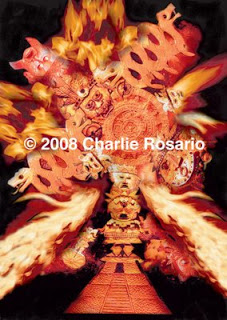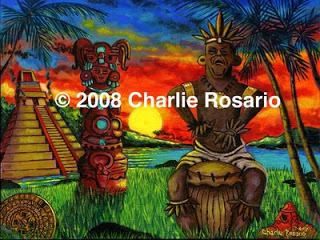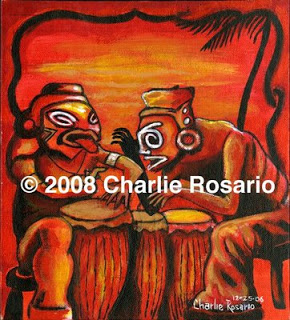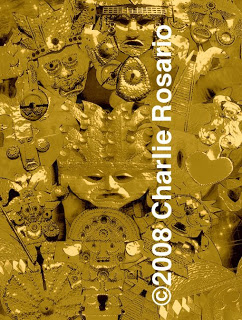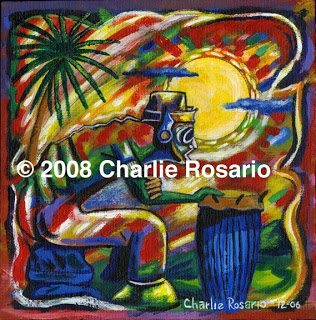 Source: http://bongohead.blogspot.com/2009/01/meet-visual-artist-charlie-rosario.html