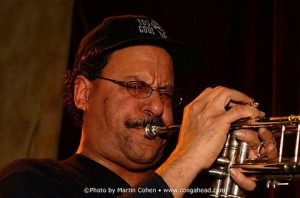 His towering trumpet sounds have graced hundreds of CD's. Famed trumpeter and gifted songwriter "Piro" Rodriguez has played with the likes of Tito Puente, Celia Cruz and Marc Anthony. Now the talented musician breaks out on his own, with the upcoming release of his latest CD, "Ojos Abiertos, Eyes Open."
His solo debut promises to bring more of the Latin, jazzy sounds that's made Rodriguez one of the most important and sought-after trumpeters in the music industry. The songs are some of the hundreds Rodriguez has written during his decades-long music career.
One of 8 children, Rodriguez began playing the trumpet when he was seven years old. By the time he was eleven, he was playing in a regular orchestra. He'd become a professional, cutting CD's and playing with some of the best talents out there, by the time he was only fourteen. By fifteen, his talent was widely recognized; he'd earned the titles of First Trumpet and Musical Director for the famed Willie Rosario orchestra.
His love of music led him to study at the renown Escuela Libre de Musica in Hato Rey, Puerto Rico, and later at the University of Coral Gables in Miami.
The decades that followed included collaborations with dozen of musical greats. His tours include a 15-year-long tour with Tito Puente, an 8year tour with Celia Cruz, a yearlong tour with Juan Luis Guerra and, of course, book and movie fame, including music contributions and cameos in "Mambo King" and "The Thomas Crown Affair."
Today, Piro considers an artists' residence in Yonkers, New York, home. His songwriting continues, with hundreds of melodies on paper, yet to make us all long to hear more.
Video Links:
%